All about your Sphynx Cat's hygiene
All of our cornish rex companions are registered with either, The Cat Fanciers' Association (CFA) or The International Cat Association (TICA), the two most common cat registries. If you find yourself interested in showing this magnificent, unique breed, we have listed the breed standards below:
CFA Cornish Rex Standards
GENERAL: the Cornish Rex is distinguished from all other breeds by its extremely soft, wavy coat and racy type. It is surprisingly heavy and warm to the touch. All contours of the Cornish Rex are gently curved. By nature, the Cornish Rex is intelligent, alert, and generally likes to be handled.
PROFILE: a curve comprised of two convex arcs. The forehead is rounded, the nose break smooth and mild, and the Roman nose has a high prominent bridge.
HEAD: comparatively small and egg shaped. Length about one third greater than the width. A definite whisker break, oval with gently curving outline in front and in profile.
MUZZLE: narrowing slightly to a rounded end.
EARS: large and full from the base, erect and alert; set high on the head.
EYES: medium to large in size, oval in shape, and slanting slightly upward. A full eye's width apart. Color should be clear, intense, and appropriate to coat color.
NOSE: Roman. Length is one-third length of head. In profile a straight line from end of nose to chin with considerable depth and squarish effect.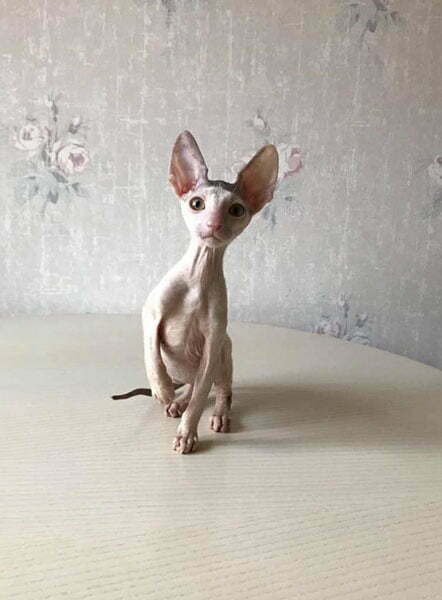 CHEEKS: cheek bones high and prominent, well chiseled. CHIN: strong, well-developed.
BODY: very distinctive, small to medium in size, males proportionately larger but never coarse. Torso long and slender, not tubular, showing a deep, but not broad chest. The general outline is comprised of graceful arches and curves without any sign of flatness. The back is naturally arched and evident when the cat is standing naturally. The underline gently curves upward from the ribcage to form a smallish (tucked up in appearance) waistline. Hips and thighs muscular and feel somewhat heavy in proportion to the rest of the body.
SHOULDERS: well-knit. RUMP: rounded, well-muscled.
LEGS: very long and slender. Thighs well-muscled, somewhat heavy in proportion to the rest of the body. The Cornish Rex stands high on its legs.
PAWS: dainty, slightly oval. Toes: five in front and four behind.
TAIL: long and slender, tapering toward the end and extremely flexible.
NECK: long and slender.
BONE: fine and delicate.
COAT: short, extremely soft, silky, and completely free of guard hairs. Relatively dense. A tight, uniform marcel wave, lying close to the body and extending from the top of the head across the back, sides, and hips continuing to the tip of the tail. Size and depth of wave may vary. The fur on the underside of the chin and on chest and abdomen is short and noticeably wavy.
COLOR AND MARKINGS: Cats with no more white than a locket and/or button(s) do not qualify for the Calico or Bi-color classes. Such cats shall be judged in the color class of their basic color with no penalty for such locket or button(s). Sizes of such lockets or buttons can vary from cat to cat.
CONDITION: firm and muscular.
PENALIZE: sparse coat or bare spots.
DISQUALIFY: kinked or abnormal tail. Incorrect number of toes. Any coarse or guard hairs. Any signs of lameness in the hindquarters. Signs of poor health.
TICA Cornish Rex Standards
HEAD: Shape: Medium, egg-shaped with a pronounced occiput, accentuating the oval. Longer than wide, but not extremely long.
EYES: Medium sized, oval in shape. Set an eye's width apart and slanting slightly upward. Color in keeping with coat color.
EARS: Large. Deep conical shape with a modified point. Set high, but not so high as to suggest "donkey" ears. Usually naked on outer surface.
CHIN: There should be a straight line from nose to chin, neither receding nor protruding, and in keeping with the rounded egg-shape.
MUZZLE: Definite break.
PROFILE: Roman, with a high, prominent bridge. There can be a very slight change of direction, even with the eyes, separating two convex curves or one continuous convex curve.
NECK: Slender and medium in length.
BODY: Shape: Long, with full and deep rib cage. Trunk follows upward curve of back bone forming a "tuck-up' with rounded hips that are somewhat heavy in proportion to rest of body. Small to medium in size, males proportionately larger.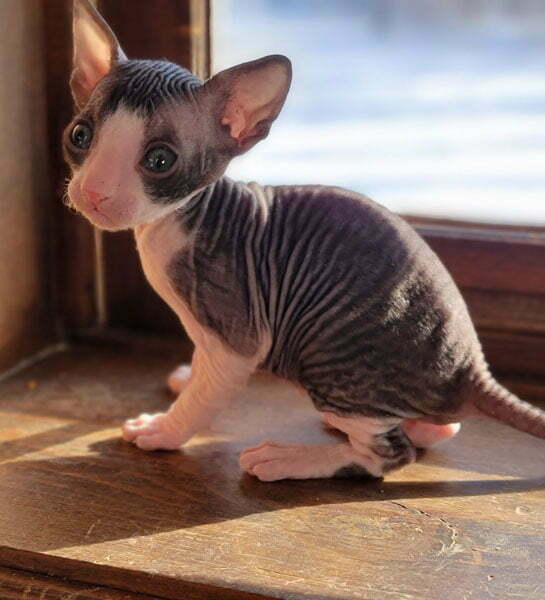 BONING: Very fine.
MUSCULATURE: Hard and muscular.
TAIL: Long, slender and tapering slightly from body to end. Covered with fine dense hair with waves preferred, but no penalty for baldness on upper surface of tail. Abnormality of the tail should not be confused with a slight natural curve of the last vertebrae found in some Cornish Rex.
FEET: Small, oval.
COAT/COLOR/PATTERN: Length: Short. Texture: Fine, soft hair should have distinct ridges giving it a wavelike appearance. Like velvet pile on head and legs.
COLOR: Recognized in all colors.
CONDITION: Hard and muscular with no indication of obesity or emaciation. Abdomen tight. Eyes bright and clear. Coat with healthy sheen. An overall appearance of health and vitality.
BALANCE: The overall physical appearance of the cat should be a distinctive combination of fine bones and firm muscles with each part in proper proportion to the whole animal. The Cornish Rex has a very alert and athletic look.
GENERAL DESCRIPTION: A Cornish Rex is a curly-coated, fine boned cat that stands high on its legs. It has a distinctive arched back, deep rib cage and "tuck-up" resembling a greyhound. The Cornish Rex has a hard, muscular body that is warm to the touch. The coat quality, texture, waviness, as well as the distinctive body type are of prime importance.
ALLOWANCES: White lockets or buttons are permitted.
PENALIZE: Lack of a definite muzzle break. Extreme wedge-shaped head. Bareness on large portion of the body, except ears and tail.
WITHHOLD ALL AWARDS (WW): Presence of coarse hairs.
Reviews of our Sphynx Families
What Our Families Have To Say
We love our Sphynx families! They love their sphynx companions, here is what some sphynx families from across the United States had to say:
We were looking for a breeder in Ohio that would provide a healthy, happy Sphynx for our family and Pantheon Sphynx more than delivered. They sent weekly photos, kept us up to date on social changes, vet appointments, etc. They answered any questions or concerns within a day and was very straightforward with the whole process and super easy to talk to. They took the time to understand what a big emotional and financial decision this was and never rushed us into making a decision. We wholeheartedly recommend Pantheon Sphynx and plan to get back on their waiting list for another kitten very soon!
Pantheon Sphynx is the best sphynx breeder around! Heather is amazing at what she does. She is awesome with communication through out the entire process and she is available for any questions you may have about your new babies anytime! She was great about keeping us updated with pictures and all the info we would have wanted about how they were doing. She loves these cats so much and it shows. We have 2 of her babies and they are so wonderful! I will never go to another breeder. Heather is hands down one of the best breeders there are.
I went through Pantheon Sphynx because the owner is a co-worker of mine, and I knew her love for animals. It was only natural for me to get my dream cat – sphynx, through them. My daughter, who has special needs, and I have always talked about getting a "naked cat", so when the time came that the Pantheon Sphynx had their second litter, we were on it! My daughter & I visited often when Henny had her litter, and we had our pick as soon as we saw our Wylde. Pantheon Sphynx sent us videos of the birth, and pictures to follow. Pantheon Sphynx really cares about their animals and who they place homes with. They're very personable - like I said we received ...
Heather is amazing to work with! She is so knowledgeable and that is important for a first timer like me. She listened to what I wanted in a kitten. She waited until the perfect one for me was born! If I could give Pantheon Sphynx 10 stars I would! I'm so in love with my little one. Thank you for an amazing experience and an awesome kitten!
I met Heather in 2015, when she first began her breeding journey, and have had the privilege in watching her grow into the exceptional breeder she is today. Our mutual passion for the Sphynx breed bound us together, and it is an honor to be apart of her journey in growing Pantheon Sphynx, and having her kittens and cats dominate my home throughout the years. The passion, tremendous care, dedication and love she has for her cats is extraordinary and quite honestly, inspirational. Heather is a true gem, and so are her cats...
We are over the moon with our new addition to our family and are very pleased that we chose to go with Heather. She was very kind and thorough through the whole process of adopting a kitten through her cattery. She was very patient and answered any and all questions that I could throw her way. She is a very knowledgeable breeder and is passionate about her kitties. Our baby came with a bag of goodies which was super helpful with the transition of bringing our baby home and she was sure to deliver a healthy, happy kitten. I would definitely recommend Heather to anyone wanting a sphynx and will choose her again when we decide to add another sphynx to our family!
We love our little Raisin so much. Heather is amazing. She kept me updated with lots of pictures so I could see my little man grow. Even though I probably drive her crazy. She gets back to messages quickly and answers any questions. I would highly recommend her Cattery
We are so in love with Butter! Heather is the best she communicates great , reply's quickly and answer any questions we had! (And a lot of them were dumb but we are first time sphynx owners..lol) She always sent update photos as we were waiting for out baby to get here and we were able to facetime and see her getting so big!! We definitely recommend!!
The little Rex kittens are top notch, would highly recommend for anyone looking to adopt the Rex or Sphynx breeds! Very smooth and easy to deal with all the way through the process.
I picked up Mali last week and the love I have for this little ball of spunk is beyond!! I'm new to the sphynx breed and Heather was there with all the questions I had and was more than happy to provide updates whenever I asked. I'm sure I'll have more along the way and I know I can turn to her! Thank you Pantheon Sphynx Cattery for such a wonderful experience!!
I had such a great experience with Pantheon Sphynx. Heather is so informative, and the continued communication throughout put me at total ease. I cannot not say enough about how smooth everything went, and I am in love with our baby Salami! Thank you again!
Heather was amazing to work with! I've wanted a sphynx for so so long and she helped that dream come true! She answered any and all questions I had. Sent pictures anytime I asked her to. Couldn't have asked for a better experience. So happy to bring my baby girl Iris home
Heather is amazing to work with & she helped fulfill my 20+ years wish. The cats & kittens are gorgeous & well cared for. My baby is super sweet, playful, cuddly & I couldn't love him more. Pantheon Sphynx Cattery is amazing & I would highly recommend them!
I researched getting a sphynx cat for over 2 years. After seeing all of the horror stories with scams and people shipping animals over seas, I was very reluctant about choosing a breeder. Then a friend of mine actually gave me Pantheon's Facebook page. This was truly a blessing... If anyone is interested in getting a sphynx from Pantheon I can 100% tell you they are the way to go. From having years of knowledge and experience with the breed but also having the patience and spreading their knowledge with newer parents. Trust me you will not find a better breeder for these amazing animals!!
Harry had a very easy transition into our home thanks to Heather. He settled right in. He can be calm and cuddly or fast and playful. Heather replied to *every* text, whether it was a question or just a picture I sent to her with an update. I am so glad we were able to get Harry through Pantheon Cattery.
Heather was amazing! Would definitely recommend, we love our new addition Lilith
I began my search to find a multi color girl sphynx in April 2020. I spoke with several cattery's over the next few months including Pantheon. I finally paid to be placed on a waiting list with Pantheon in August after being disappointed repeatedly with other breeders who don't want to bother with one. Pantheon contacted me a few times over the next couple months with pictures of available babies after being placed on the wait list. I gratefully declined, and they understandably accepted my decline until the day I saw the baby girl sphynx I'd been searching for, for months. Thank you Pantheon! You were awesome to work with and we are so in love with Cloey. She's perfect! So beautiful and the best cuddler ever! The only thing that was hard about this whole process was waiting. haha
I can't thank Heather enough!! She is so easy to work with and always gets right back to me with my 100's of questions I had. We picked up our Sphynx (Obi) the other day and Heather had a welcome/ care pack for us and current vet check that had been done to take home with us. Obi is vocal, playful, with a large personality and very healthy! If you're looking for a loving healthy Sphynx from a loving family than I highly recommend Pantheon Sphynx.
Amazing experience! After falling for a terrible scam, I was very cautious. I had several recommendations for Pantheon Cattery. We decided to get our first baby from Pantheon and she is absolutely perfect! I would highly recommend this breeder, she was great with answering questions, updates and sending pictures. She truly cares about her babies and it shows. Our kitten seems very well socialized and we couldn't be happier!
Wonderful breeder! She was so helpful and answered all the questions I've had before and after getting my baby. He is the sweetest cat I've ever had and I can't imagine life without him now. 10/10 would recommend.
We had been looking for a retired adult for awhile when we stubled upon Malky. We couldnt be more happy with our man and Pantheon made becoming first time sphynx parents a breeze! They worked with our crazy weekend to get him and were so understanding when we arrives later than we thought we would. They care about their cats and it shows, they only want the best for you and them.
Picked up my lil bundle of joy right after Christmas and she is the most perfect girl ever! Heather was very informative and always responded back in a timely fashion. You can tell she is passionate about this breed, it definitely shows! Nova came home with a cute little care packet and her own blankey and toy with her vet records also. I will most definitely be going back to Pantheon Sphynx for another baby! Thank you again Heather!
Absolutely awesome cattery ! Always willing to answer any questions, super quick replies and very very knowledgeable about to breed . Our little girl is just the SWEETEST little babe
Absolutely wonderful experience with Pantheon Sphynx! I got two beautiful kittens from them, their personalities amazing!!! They love to be held, they are very social, everyone in the house is head over heals in love with them! Couldn't have asked for anything more! Thank you for my lil loves
10/10 service and super helpful throughout the whole process! I adopted my baby Nala from here and she has been nothing but a joy! She loves to play and also gets along great with my dog Charlie! Won't get a sphynx from anyone else! Thanks a bunch.
The Search for Your Best Friend Ends Here
Still deciding? We will be here whenever you're ready. As a premiere breeder in Northeast Ohio, we will continue to raise healthy and loveable companions. We can't wait to welcome you into our Pantheon Sphynx Family.